Online music lessons come in many different forms, from YouTube and Instagram videos to TikTok to online courses to private online lessons.
There are a lot of choices. Some online lessons are free, and some have a cost.
How do you decide which one is the best for you?
One thing is for certain; all online lessons have one end goal in mind.
To get students learning, loving and playing their musical instrument.
Instructional videos on YouTube, Instagram and TikTok, will demonstrate how to play a certain song or piece. As a student, you will have to copy the notes and actions of the performer. To do this, students will replay the video multiple times to follow the performer. In other words: listen, watch, copy and repeat. For some students, this can work well.
However, if you are looking for detailed explanations or have questions on rhythm, fingering, notation, or any musical theory, you might need an experienced professional to help you.
Why Opt for Professional Online Music Lessons 
Online music lessons/courses come in many forms, including Udemy courses, private music lessons with music teachers and other organizations. These courses can be helpful as they will have a systematic and organized way of delivering music lesson information.
Some programs are designed for beginners to advanced. Students can learn how to play Bach to Improvisation to Jazz. Most of these courses are pre-recorded courses. Questions to the teacher can be asked later outside of the system. These classes may suit students who want to learn but do not have time for weekly private lessons.
Private online music lessons are very similar to in-person classes, such as those in a music studio or at-home. The advantage of private online lessons is the immediate teacher feedback and student/teacher interaction. Online music teachers can assess student performance during the lesson. They can address trouble spots and help improve musical techniques. These online lessons are in real-time. Students can also ask questions during their music lessons and get the help they need right away.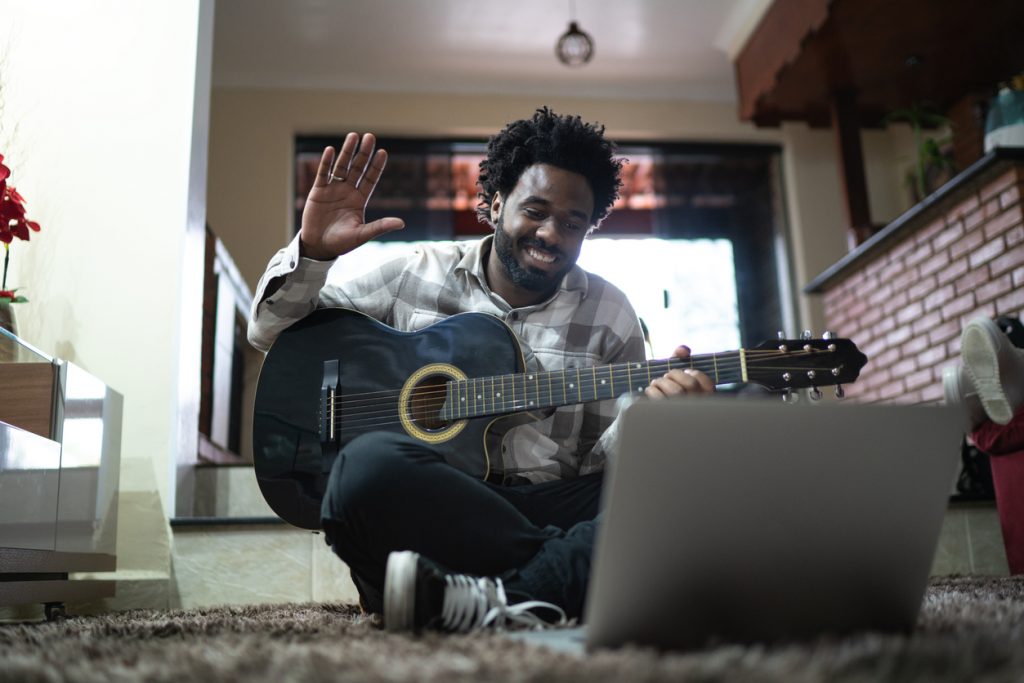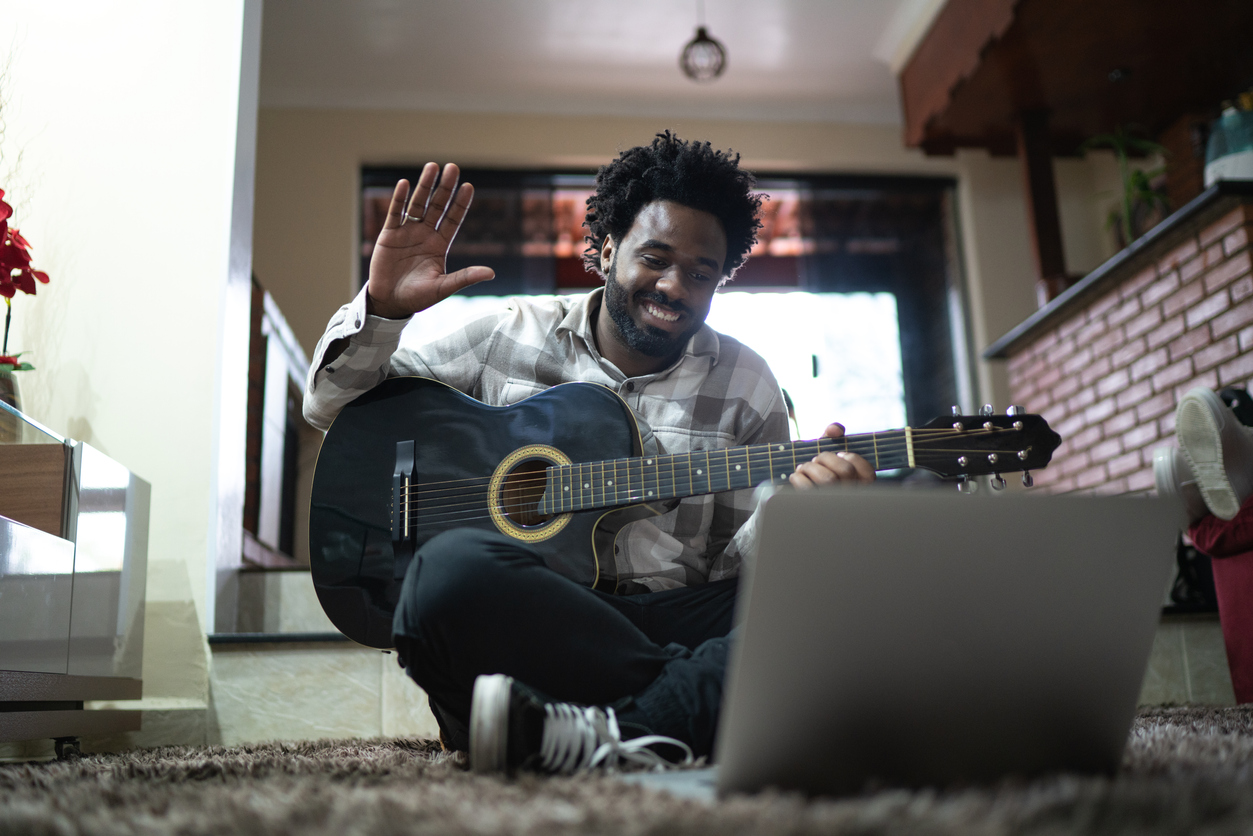 What You Need for Online Music Lessons
Private online lessons can be subject to many user experience factors such as internet connection, video and sound quality. Finding a good teacher with a good online set for music lessons is important. Student user experience can also be enhanced if students have a stable internet connection and a proper online set-up.
(Read this guide on how to improve your online music lesson experience)
Lessons with an online teacher can be tricky. Teachers have to creatively explain, demonstrate and motivate students without direct contact. This can be difficult for some students, especially kids who may get distracted by their surroundings. Many online music teachers use apps to engage younger students while online.
Besides internet connection, two main factors to consider with private online music lessons are video and sound.
1) Many online music teachers have multiple views so students can see their teacher and the instrument. Online music teachers can demonstrate songs or new techniques and share sheet music, videos and notes very easily. It is also important that online music teachers can see their students playing their instruments or singing their songs. Students who have a good video set up – using a laptop, IPad or tablet over a phone – will find online music lessons easier and more enjoyable.
2) Sound is also an important factor in successful online music lessons. Online music teachers have to listen precisely to assess a student's playing. There can be some obstacles. Sound can cut out, background noises, video freeze, sound delay and feedback just to name a few. To overcome this, a good online music teacher will have a great online set-up that can include a microphone, headset and monitor. They will also have a good understanding on how to troubleshoot technical problems and assist their students with their online music lesson set-up.
Imagine Music has been assisting students with their online music lessons set up and achieving successful musical progress with a great online music lesson experience. Whether music lessons are online, in studio or in home, we can help guide you through the process of finding the right music teacher for you. We also have different music lessons options for every type of music student. Our teachers have varying experience levels, musical teaching styles, education, and performance. For over 25 years, Imagine Music has been teaching and mentoring lifelong skills through the love of playing music. Contact us today and begin your musical journey.